Norton Password Manager סקירה: סיכום קצר מפי המומחים
Norton has been around for decades in the world of web security and it's a well-known household name. Norton is – unlike most other password managers on our list – actually completely free. It's easy to use, and yes – free – but is it any good? Does it do what you need it to do?
After reviewing close to 70 password managers to find out which ones are worth your time and money, here's what I learned about Norton.
Norton Features
Norton is pretty much a cloud-based vault for everything you want to keep secure: passwords, addresses, wallet details and even notes you can fill in freely (such as a passport number, or a transaction confirmation number). Those are pretty much the same features as other basic password managers on the market. So far, nothing too exciting.
Also pretty standard: your passwords can be imported and exported in CSV format, and much like other players like 1Password or KeePass the tool supports import/export from many different password managers too – I easily imported my passwords from Dashlane. It also allowed me to import my passwords saved from Chrome, and even Firefox!
Despite being free, there's no limit to the number of passwords or devices you can sync in the vault. Keeping in mind that such a service from other providers can cost anywhere between $20-$40 annually, or on their free plans you'd only have a limited number of passwords you're able to store, this is very nice indeed.
The Password Generator
Most password managers come with some kind of password generator (well, except for oneID), and Norton is no exception. Norton's password generator allows you to create passwords ranging from 4 to 64 characters in length, with the bar set at 20 by default. I would suggest not to bother with anything below the 20 characters default—after all, what are password managers for?
The interface tests and reports on the strength of the generated password in real-time, and it even has a nice little changing color main strip to tell you when you've created something strong.
To further strengthen your password, you have the option to add in letters, symbols and numbers. As I said earlier, since you don't have to actually remember any of these passwords, go for the full package and create super-strong passwords. Overall, the generator is very intuitive and worked smoothly. It's actually better than some of the other password manager offerings that didn't give you the option to customize and strengthen your password (such as Myki).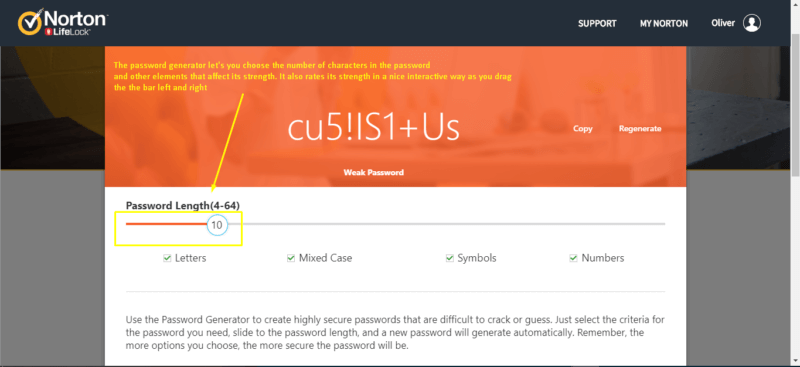 Another nice little feature in this password manager is the option to require your master password in order to edit any of the items you included. This may seem annoying, BUT it's better to be safe than sorry – after all, if you happen to leave your device open for anyone else to use, they could easily steal your passwords. Either way, this is an optional feature.
Password Autofill
Just as with most other password managers, Norton Password Manager will automatically fill in your login credentials as you visit sites. You'll see a notification popup, asking you to confirm if you'd like to save your login, or if you want to skip it. One thing to note about this – from the browser extension (more on that later), you don't get the option to add tags or categorize your login – you'll only be able to do that in the Vault. Yes, I know that "free" means you pay in other ways, but the Norton Identity Safe from before used to have this option, and other password managers (even Zoho Vault, which I really disliked) has the ability to tag too. Never mind.
Anyway – the next time you visit the site with the credentials you've saved. You'll see the option to add in anything saved, so if you've saved several different credentials, you'll be asked which ones you want to use – like this: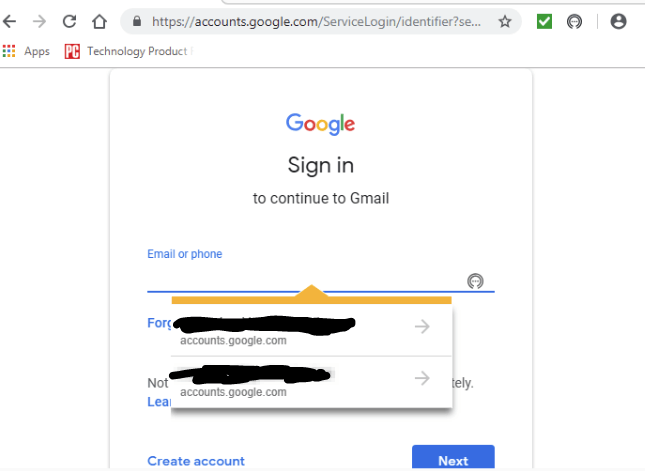 Something very important to mention here – Norton Password Manager only allows you to autofill your password logins – it won't autofill any other details, such as a longer address.
It seems that free is free – for this kind of feature, you'll need to pay up for it. While Norton password manager does allow you to create "addresses" in your vault, in order to autofill them later…in practice, they don't actually work. I tried doing some online shopping, but I didn't see anywhere to input the address automatically, unlike with my passwords, where the suggested logins came up in each field.
Norton says this feature is a little buggy at present, and that address autofill will be active in the future. So there we go.
Two-Factor Authentication
To set up the two-factor authentication process to work with your password manager, go to your account settings and at the bottom of the page, you'll find the button that'll take you to the dedicated help page for that. In short, you'll need to download Norton's VIP access app, which is free, and generates one permanent security token and a 6-digit password every 30 seconds. You need to fill in the form presented on the website to complete the process (I used my mobile phone).
It's also possible to choose a phone number or a FIDO Secure Key to serve as the second factor. The process ran smoothly and the instructions Norton provided were clear, but for such a great (and free) feature, it seemed odd to bury it in the settings area.

Actually, it seemed odd that there was a separate two-factor authentication app. Some password managers, like Zoho Vault, offer you the use of third-party 2FA app Authy, but also gives you other options, like True Key have about a million (seemingly) different two-factor authentication, right from the password manager software itself. So this struck me as a bit of an odd choice, but again – free is free.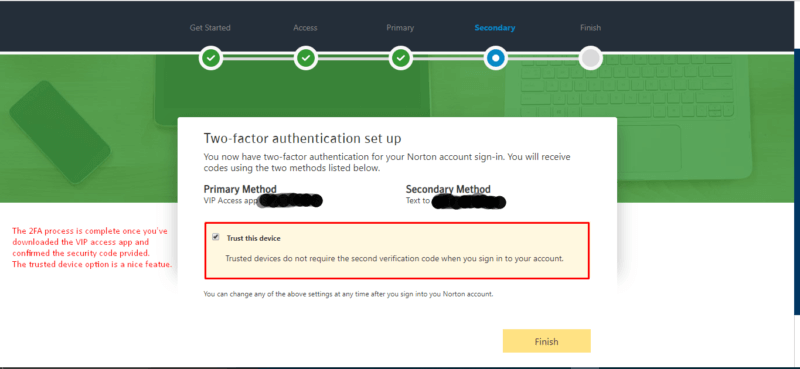 Norton Plans and Pricing
As I said at the beginning of this password manager review, Norton's vault is completely free (and is featured inside Norton's packages, see screenshot). However, it doesn't match up so well to other password managers that are also free and offer more than just a vault service (Dashlane's security dashboard and monitoring features, for example). I tried to get Norton's safety dashboard via a link in the support page, but it stated that the dashboard is currently in beta and added no further information.
Norton does state in their sales page for the password manager that it can be stand-alone or as part of their 360 security suite, so as mentioned above, Norton doesn't try to offer full coverage, or to match up feature-for-feature with the competition. As we saw above, the mobile app does offer a bit extra, but nothing out of the ordinary in the password managers universe.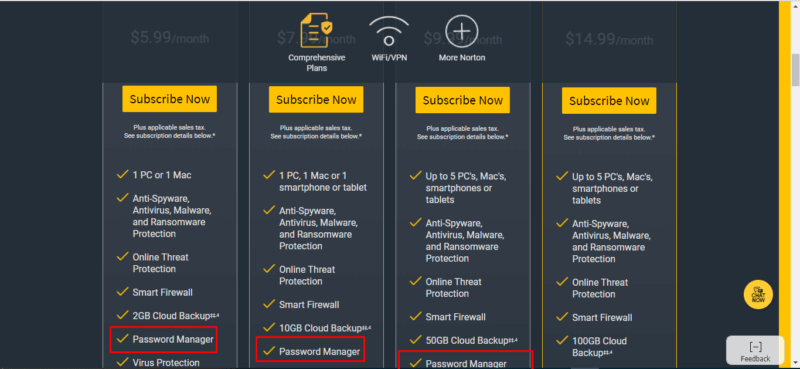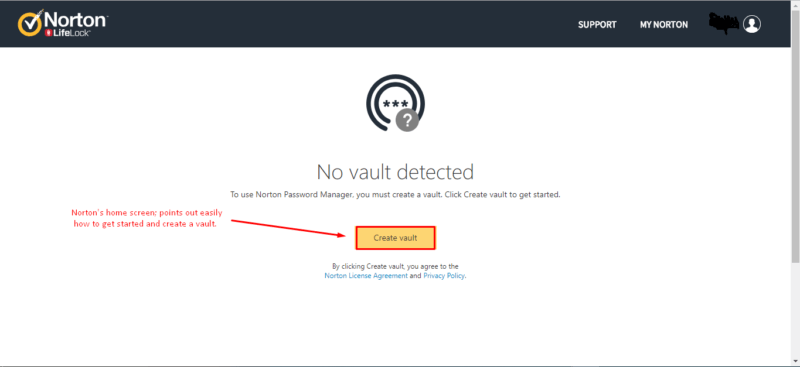 Setting up your Norton vault is easy and quick. Creating a general Norton account (which is used for all their products, if you choose to purchase them) and setting your main vault password is done easily in the product's dedicated site through any web browser (I used the latest 64-bit Chrome edition). Adding the different items to the vault and generating passwords took me very few moments and I was able to orient myself easily through the interface.
To access the service, you must first create an account and log in to Norton's website. The password you create for your Norton account can't be identical to your vault password, and has to be at least 8 characters long. One thing I really liked is that Norton just wouldn't accept anything – it only allowed me to set my master password once I had included each type of character it asked for (special, upper case, lower case, number).
Since it's a zero-knowledge password manager, you need to create a master password before you do anything. This master password can't be recovered by Norton – so if you lose it, you lose all of your saved data.
Once you've set up your master password, you're good to go – start saving your items under several categories – logins, financial-related items ("wallet") and otherwise – Norton's interface divides those items into categories, as do other competitors such as LastPass and LogMeOnce.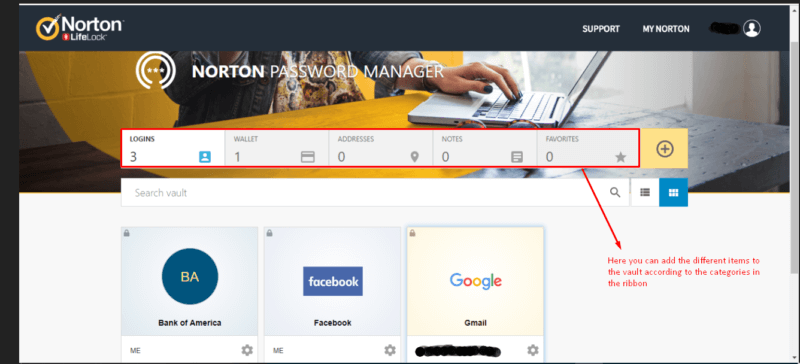 All of your data is stored handily in your own personal Vault, which you have access to from your browser menu.
Using the password Vault is easy and Norton did a good job in terms of the UX to help users who are new to password managers. There's a lot of information on the page, and also links to a very detailed help page (see below in the Support section of this Norton password manager review) with the inexperienced user in mind.
The Vault itself has a fun little Safety Dashboard feature, which gives you a rundown of your currently saved passwords and their strength. You can see a list of duplicate passwords, any passwords that haven't been changed in a long time, and it shows you exactly where your weak passwords are, and offers to change them –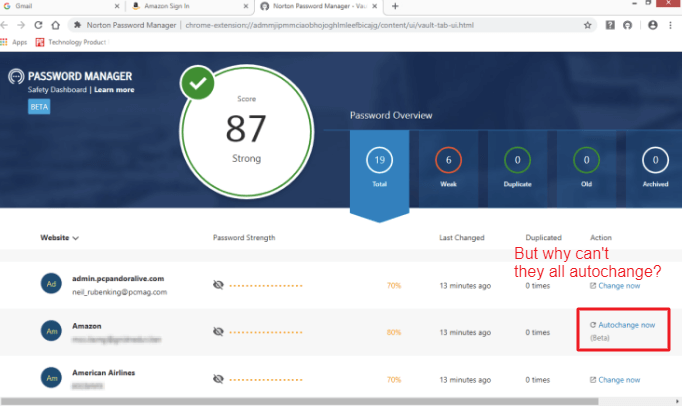 But what confused me was that some passwords could be "autochanged", and others only "changed" manually (see screenshot above). Norton explains this away by saying they can automatically change and update your passwords for "popular" sites, but for others, you'll need to change them yourself. This is all very strange, especially when LastPass allows you to easily autochange all of your passwords in just one click.
However, for a user who's a bit more experienced and looking for more than just a vault, Norton is very basic and offers little more than that particular service. As I mentioned above, you can't add tags to the data you save, although you can edit its title or category in the Vault. It's a bit annoying, but it's something, at least.
I was left a bit underwhelmed by Norton's password manager so far, especially since it's such a well-known company and very highly respected in the online security industry.
Having said that, there's more to this password manager if you explore the mobile app and the web extension.
Norton Safe Web
Once you have your Vault up and running, you'll be prompted to install the Norton Safe Web toolbar.
This is Norton's proprietary safety extension, and you won't be able to surf the web without it. You can choose whether to install only the browser extension, or to go full-on and make it your homepage and default search engine too. I decided to keep only the search bar.
Surfing the web with the toolbar will show you the current site's safety, and give you a color to let you know how safe it is – green means all is safe and secure; orange means it's potentially risky, and red means it's a dangerous site – there's also a gray option, meaning the site hasn't yet been tested and assessed by Norton. You can click the toolbar for a report of what makes it safe, dangerous, a safety rating from the community and comments from other users too.
Why is this relevant? Because it's an added (if strange) layer of security from Norton – after all, you don't want to be plugging your passwords into sites that just aren't safe. That and, if you open your selected sites straight from Norton Password Manager, there's little chance that you'll visit an unsafe site.
Norton on Mobile
Here's when things got interesting. While the desktop Vault left me a bit unimpressed, the mobile version's Vault was way better:
The Norton password manager app has an integrated, secured web browser that comes automatically with Norton's Safe Search (a free browser extension you could download separately)
The VIP access app features a form autofill option that actually works
The VIP access app features a QR scan 2FA option for compatible sites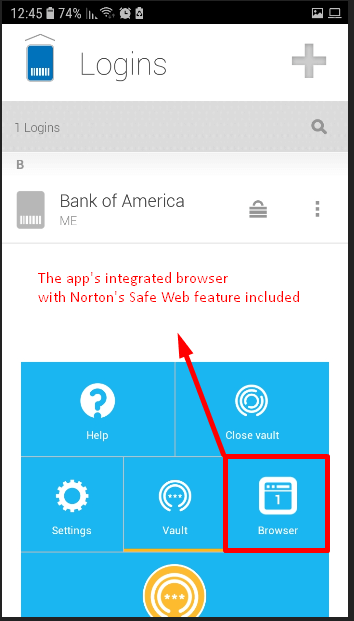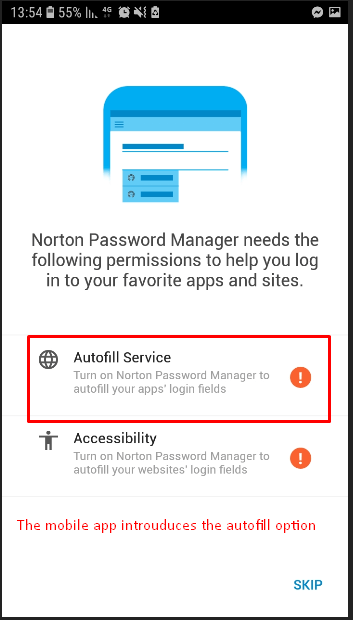 These are actually nice additions to the password manager, but without some digging, you wouldn't ever see them.
Otherwise, the app ran nicely and smoothly, and even had the same features as the desktop version. That's not rare in a password manager, but not all password managers (Zoho Vault, looking at you) can say the same thing.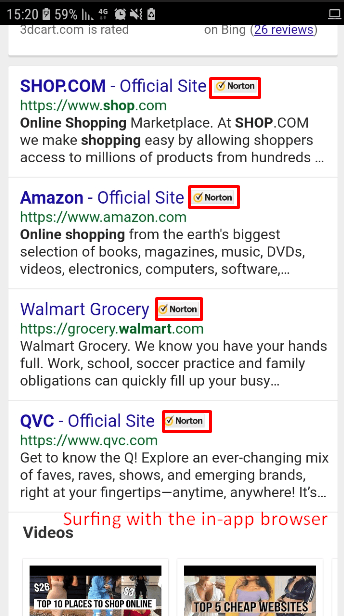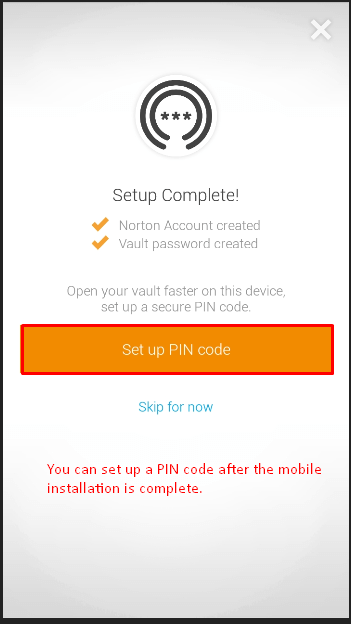 One thing I really loved was the ability to capture your credit card information, just from using your smartphone camera, for later use when filling webforms!
Norton Security
Norton doesn't reveal its exact security standard (although the help page mentioned adherence to the AES standard, which is usually 256 across other password managers). I have reviewed above the 2FA option and the PIN code option in the mobile app; it's too bad those features are scattered across the different platforms.
More importantly, Norton doesn't offer backup for your passwords in the Vault. Again – and I can't stress this enough – what's free is free.
Norton Customer Support
In terms of the support on offer, Norton's corporate power really shines. The help and support centers are very detailed and are spread across multiple channels.
The help page tries to cover every scenario with FAQs and useful walk-throughs and information. They're very dense and can be confusing, but it's clear that they really want to help users. You could try solving issues by reaching out to Norton's community page, but I wouldn't recommend that as it's very messy and hard to navigate.
Norton also offers a live chat and phone support options that require you to fill in a form in advance. Perhaps an anxious user would be annoyed by that, but the feeling is that someone is paying attention and trying their best to help you.
The chat was busy due to an overload of calls, so I had to wait for 2 minutes, which is quite good. Once I got through though, the representative was prompt and helpful.
The call center was also busy, and I had to wait for over 10 minutes before finally hanging up in frustration waiting for a live rep (the site estimated the wait time to be 3 minutes). I'd definitely go for the live chat, but I imagine there are still quite a few users that prefer a human touch for support issues.
Either way, and for a free password manager, it's really something that it offers both phone and live chat support – other huge, corporate password managers – like Kaspersky don't bother, even though they easily could.